When Lucas popped the question to Valerie in a HIDDEN.sg game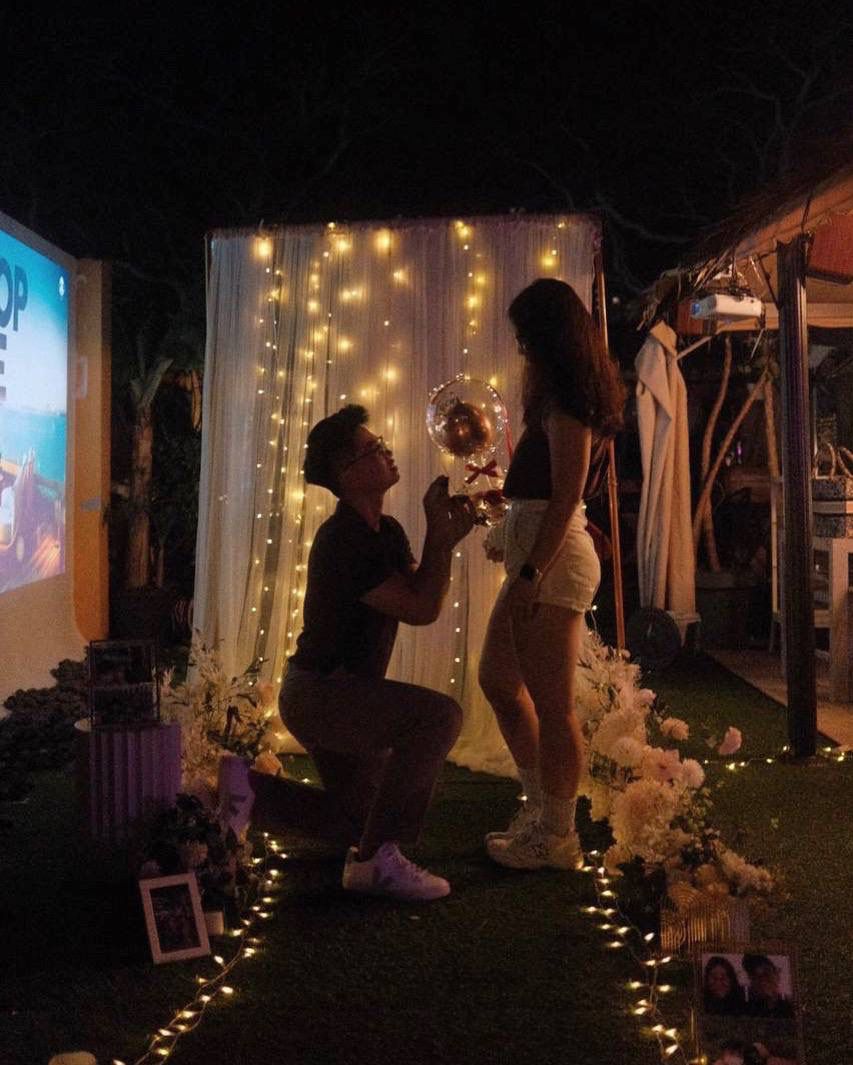 More than seven years ago, amid the bustling atmosphere of a baby fair event in Singapore, Lucas Tung and Valerie Puah's paths first crossed.
Lucas, then a part-time worker waiting to enlist, and Valerie, a university student at SIM, both found themselves working at the three-day event. Their lives seemed to orbit around the same locale, as they lived just 10 minutes apart in the heart of Simei.
It was at that moment, in those brief encounters while working together, that their love story began. As the days passed, their connection deepened. Lucas, now working in the commodities field, was always sensitive to Valerie's wishes as they dated. She thought, "This person is different."
Lucas and Valerie, beginning their journey as friends, soon found themselves drawn to one another. Lucas would share photos of his travels to Myanmar and Vietnam, and their bond grew stronger.
Despite their busy lives, Lucas and Valerie shared a common interest in escape rooms during the early years of their relationship.
They found a bond in solving puzzles together, exploring the intricate challenges that escape rooms presented. For a while, escape rooms became an important aspect of their lives, creating lasting memories that deepened their feelings for each other.
As time passed, Lucas contemplated the idea of proposing to Valerie, and he wanted to incorporate their shared love for puzzles into the momentous event. He had initially considered using an escape room at Cathay, but circumstances changed, and the building was no longer available.
The 27-year-old embarked on a journey across Singapore in search of a unique alternative. Space constraints and the challenges of finding a suitable venue led him to consider other options.
After thorough research on TripAdvisor and YouTube, Lucas stumbled on HIDDEN.sg, an intriguing concept that blended adventure and puzzles.
He reached out to Loh Jun Wei, the co-founder of HIDDEN.sg, with an unconventional request: Customise a puzzle game that would culminate in the most important question of his life.
The grand plan was set into motion. It was disguised as an "annual company event" with a twist, a race of clue-solving across Chinatown, a quest that would ultimately lead the couple to a hidden location in Siglap.
Lucas sent Valerie a customized flyer, leaving her none the wiser about the impending proposal. To make the occasion less suspicious, Lucas invited three friends to join them on the adventure.
The game commenced, with clues and challenges sent via WhatsApp. The couple navigated through Chinatown, uncovering the rich heritage of Singapore while solving intricate puzzles. Valerie was immersed in the game, completely focused on winning. The 28-year-old, who now works in the fintech sector, had no inkling of the surprise awaiting her.
As they reached the final clue, they found themselves at the gate of a shophouse in Siglap. Lucas had coordinated extensively with the shophouse owner, even enlisting a close friend of Valerie's to help set up cameras and decorations on the rooftop.
Valerie's phone battery had almost run out during the game in Chinatown, and she was constantly glancing at Lucas's phone. Fortunately for Lucas' ruse, the messages and coordination with vendors seemed perfectly normal in the context of the game and her suspicions were not raised.
The final clue led them to the rooftop of the shophouse. It was here that Lucas revealed the true purpose of the day.
Amid a beautifully decorated setting, he spoke from the heart, sharing his unwavering love for Valerie and his commitment to building a life together. His proposal included a hot-air balloon with a flower basket, a dream Valerie had mentioned months earlier.
"I didn't cry," said Valerie. "But I was very touched by his actions...how he had singlehandedly arranged everything."
"I was always worried about marriage and the house and wedding," she added. "He reassured me if he can do all this himself, I could leave the planning to him and trust him."
As the day unfolded, the couple's close friends and immediate family joined the celebration, cherishing the momentous occasion. The wedding is planned for next year.
Asked if his romantic effort had "spoilt the market" for other men looking to propose to their girlfriends, Lucas could not resist a chuckle.
In Singapore, where couples often join the queue for public flats that are built to order and take years to complete, marriage is determined more by the completion of the matrimonial home than a formal proposal, he noted.
He wanted his proposal to be different, a "nice memory for the rest of our lives," he added. "It would set a good tone for our marriage as well." 
---